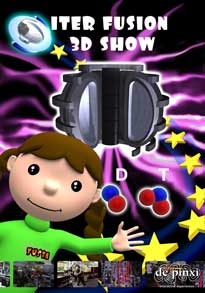 Fusia 3D show
A fully interactive, stereoscopic presentation aimed at family and general public education, for a worldwide audience. The message of the experience is to introduce why research in nuclear fusion is important to face the future challenge of global power consumption.
Guided by Fusia, we discover all the characteristics of nuclear fusion, the various steps of research. She even brings us into the largest fusion reactor in operation, the JET.
After a training, we are entitled to take the control of the Tokamak, to understand its mechanisms, and understand the difference with fission energy.
At the end of the show, we have enough information to understand the fusion project, or to ask the questions we have about it !