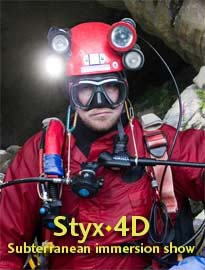 Styx 4D - VR caving
S4D is a subterranean journey of initiation into the world of cave exploration combining adventure and discovery.
Designed for use at showcaves, the journey comprises three zones:
• The grouping zone
• The thematic zone
• The interactive 4D show with special effects
Styx•4D is a show that can be personalized. Choose one of the 3 options:
• Standard: the story is suitable for most karstic sites and can be used as it is with no additional expenditure.
• Partial personalization: the thematic zone is adapted for your site.

• Advanced personalization: thematic zone and show adapted for your site.
Styx•4D will extend your visitable domain. Allow visitors to discover the inaccessible areas of your cave networks courtesy of digital technology and to share in a group interactive experience in 3D and high definition.