As of 31 March 2006 the Han Caves domain offers visitors a thrilling new attraction realized by de pinxi:


Speleogame!
Using the most advanced digital technology, the project allows visitors to discover the 80% of the cave network that only the most experienced cavers have been able to explore until now!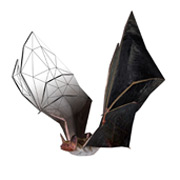 Active queueing!
View a hundred years of images of the Han Caves on a giant fresco. Scan the panoramic image of the 70 most visited tourist caves in Europe and Belgium... and then advance into the Speleobox to share the experiences of the caver!
The interactive journey
Once the visitor enters the themed area with its twenty interactive terminals he can discover 1001 facts about "Caves, man and the river" in his own language and at his own pace.
The show
This is a first for Belgium! The interactive 4D show is the highlight of the Speleogame.
We follow Maria, a journalist, she reports on events that are in turn disturbing, scientific and fantastic, set within the inaccessible Han cave network. But the real protagonists, as in all de pinxi productions, are the spectators, who interact with the events of the story as a team. A number of surprises await them: all of their senses are put to the test to elude the traps and solve the mysteries!
Full story in our press room.