With the "Interactive Cinema", de pinxi opens the doors of Multiplexes in Moscow.


Installation of interactive 3D theatre in the Rostokino multiplex, of the Luxor chain. "Excursions in Murky Waters" starts operations!/h6>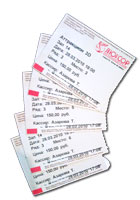 In 1993 de pinxi invented the concept of interactive cinema: 17 years and 50 productions later, de pinxi installs one of his interactive theatres in a multiplex, after developing its concept worldwide in the different fields.
The installation
The theatre is equipped with the latest technologies and software to create the most compelling experience. This is the very first 4D, interactive theatre to take place in a movie multiplex, worldwide!
The experience
During the experience, the visitors take the control of all the components of the show: animations, sound, lights and special effects. They all together play the same giant game show, to be part of it!
Full story in our press room.